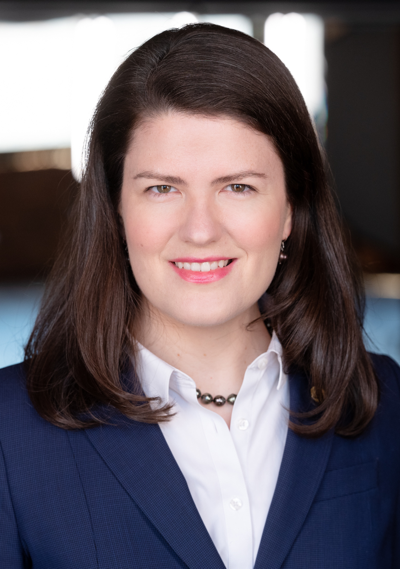 Rachel S. Morse
Diversity, Equity, & Inclusion Committee Member
Massey & Gail LLP
50 East Washington Street
Suite 400
Chicago, IL 60602
Office: 312.283.1590
Direct: 312.379.0801
Fax: 312.379.0467
Rachel Morse is an experienced complex commercial litigator.  Rachel represents businesses and individuals in their most complicated and significant matters, advocating passionately for clients' interests in both state and federal courts.  Her wide-ranging experience includes disputes of all kinds—trade secret, antitrust, intellectual property, breach of contract, fraud, business torts, restrictive covenants, and professional malpractice.  Rachel skillfully and strategically guides clients through all phases of litigation, from pre-litigation disputes through post-trial motion practice.
As a trial lawyer and strategic counselor, Rachel has earned the respect of clients and co-counsel alike.  Clients praise her courtroom advocacy as "truly wonderful" and "very effective and clear" and describe her professionalism as "the gold standard against which every other firm should be measured."  Rachel's co-counsel commend her as a "fantastic lawyer" who is "extraordinarily talented," exercises "excellent judgment," and represents clients with "unmatched commitment, enthusiasm, and skill."
Rachel maintains an active pro bono practice with high-impact results.  In 2019, she first-chaired a criminal evidentiary hearing that resulted in the immediate release of her client who had been incarcerated since 1983 due to coerced confessions.  In a civil case, Rachel first-chaired a jury trial on behalf of a low-income immigrant whose car was totaled by another driver, and the jury awarded more than double the client's requested damages.  She also has represented victims of domestic violence seeking emergency orders of protection against their abusers.
An engaging speaker, Rachel is frequently invited to instruct on a variety of legal issues.  She teaches programs on ethics issues facing in-house counsel, expert witnesses and trial readiness, deposition skills, discovery, and women in the law.
Before joining Massey & Gail, Rachel was a partner at Jenner & Block, a litigation-focused international law firm. Rachel began her legal career there after graduating from Harvard Law School.
Harvard Law School, J.D., 2007
Pomona College, B.A., cum laude, 2004
Illinois
United States Court of Appeals for the Seventh Circuit
40 & Under Hot List, Securities and Product Liability (2021-2022) — Benchmark Litigation
Super Lawyer, Business Litigation (2023) – Illinois Super Lawyers
Rising Star, Civil Litigation: Defense (2020-2022), Business Litigation (2013–2019) — Illinois Super Lawyers
Emerging Lawyer, Commercial Litigation (2015–2019) — Law Bulletin Publishing Company, Leading Lawyers Network
Award for Excellence in Pro Bono Service (2018) — Judges of the United States District Court for the Northern District of Illinois and The Chicago Chapter of the Federal Bar Association
Client CLE, presented on "Pitfalls & Perils: The Current Ethical Landscape Facing In-House Counsel" (September 2022)
Client CLE, presented on "Settlement Techniques and Strategies" (November 2020)
Client CLE, presented on "Remote Depositions" (August 2020, October 2020)
Chicago Bar Association, moderated panel on expert witnesses and trial readiness (March 2019, February 2020)
CLE Sprint, presented on "Perilous Ethical Landscape for In-House Counsel" (June 2019)
Northwestern Law School, panelist on "Women and Implicit Bias in Big Law" (February 2019)
Strafford Publications, presented on "M&A Claims for Breaches of Reps and Warranties" (April 2016, April 2017)
Practicing Law Institute, chaired program "Illinois Basic Skills for Newly Admitted Attorneys" (October 2016)
Illinois Judges Association and Illinois State Bar Association, keynote presentation on Myra Bradwell's admission to the Illinois bar (December 2011)
Illinois Supreme Court Historic Preservation Commission, assisted the Commission in its inception and early years (2007-2012)
Secured summary judgment for Nuveen in over half a billion-dollar defamation case involving the high yield municipal bond market.
Tried three-week jury trial in federal court defending against patent related antitrust claims of more than $350 million, resulting in settlement.
First-chaired evidentiary hearing in a Jon Burge torture case, securing client's immediate release after 36 years in prison.
Defended vehicle maker against trade secret claims in federal court and discovered plaintiff's fabrication of alleged trade secrets, which resulted in plaintiff dismissing all claims with prejudice and paying client's attorneys' fees.
First-chaired jury trial on behalf of car crash victim, obtaining a jury verdict of more than double the client's requested damages.
Second-chaired trial in California state court for a global professional services firm regarding restrictive covenants and a corporate raid, resulting in settlement.