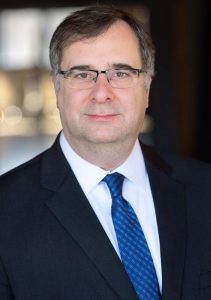 David L. Franklin
Massey & Gail LLP
50 East Washington Street
Suite 400
Chicago, IL 60602
Office: 312.283.1590
Fax: 312.379.0467
David served as Illinois Solicitor General from August 2016 to January 2019.  As Solicitor General, David oversaw a staff of more than 40 appellate lawyers representing the State of Illinois and its agencies and employees in civil and criminal appeals.  He has briefed and argued cases in the United States Supreme Court, the Seventh Circuit Court of Appeals, and the Illinois Supreme Court.  David's merits brief on behalf of the state respondents in Janus v. AFSCME won the National Association of Attorneys General's Best Brief Award in 2018.
A professor at DePaul University College of Law since 2004, David teaches and writes in the fields of constitutional law, administrative law, and conflict of laws.  His writing has appeared in, among other places, the Yale Law Journal, Iowa Law Review, Chicago-Kent Law Review, Cardozo Law Review, The New Republic, Slate, Green Bag, Chicago Tribune, and Washington Post.  David was the primary author of the latest edition of the leading Conflict of Laws casebook, co-authored with Larry Kramer and Kermit Roosevelt.
David graduated summa cum laude from Yale University and received his J.D. with high honors from the University of Chicago.  He served as a law clerk for the Honorable Stephen F. Williams, U.S. Court of Appeals for the D.C. Circuit and Justice Ruth Bader Ginsburg of the United States Supreme Court. After his clerkships and before entering academia, he was an associate at Covington & Burling in New York.