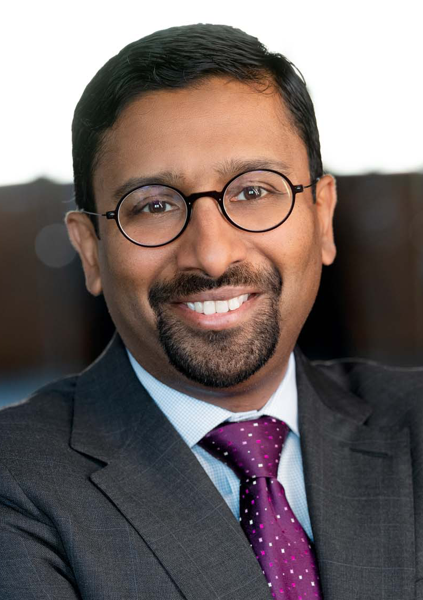 Massey & Gail LLP
50 East Washington Street
Suite 400
Chicago, IL 60602
Office: 312.283.1590
Direct: 312.379.0949
Fax: 312.379.0467
A first-chair trial lawyer, Suyash Agrawal has handled high-stakes trial and appellate litigation in jurisdictions around the country for over two decades. In 2023, Suyash was honored as one of Chicago's top lawyers in the "complex, high-stakes world of litigation" by Crain's Chicago Business. That special feature identified 74 lawyers who "have made a measurable and specific impact in their field," including pro bono work and leadership in civic organizations.
Suyash has a successful track record handling all aspects of complex civil litigation—from pre-suit investigation and discovery through dispositive motion practice and trial. Alongside his focus as a trial lawyer, Suyash frequently represents clients navigating complex legal issues and on appeal.
Suyash's experience includes a broad spectrum of complicated disputes. He has worked on cases involving myriad areas of law including: accounting malpractice, antitrust, art law, bankruptcy, breach of contract, business torts, class actions, commercial property disputes, deceptive trade practices, defamation, the Digital Millennium Copyright Act, energy, false advertising, FCC law, fiduciary duties, fraud, fraudulent transfers, HUD regulations, gaming and casino law, insurance coverage, the Lanham Act, maritime law, mergers and acquisitions, oil and gas law, patent infringement, products liability, shareholder oppression, tax-related civil actions, trade secret misappropriation, unfair competition, and whistleblower and qui tam actions.
Suyash has represented clients in a variety of sectors and industries throughout the United States and in several foreign countries. He has handled cases pending in or for clients based in over 20 states and Puerto Rico—recovering hundreds of millions of dollars for plaintiffs and successfully defending against claims seeking well over $1 billion. Over just the past few years, his business clients have included such storied companies as Walmart, JPMorgan Chase Bank, Union Pacific, MGM Resorts, Morgan Stanley, and Airbnb. He also frequently represents mid-market and emerging businesses as well as individuals.
Suyash has earned the respect of those he represents as well as his adversaries in the courtroom. Clients describe him as a "rare kind of lawyer" and "a passionate advocate" who is "critical to crafting and brilliant in executing" legal strategy. Former opposing trial counsel have called him "formidable," "tough," "highly capable," "prepared and persuasive."
Suyash graduated magna cum laude and Phi Beta Kappa from Bucknell University and received his law degree with honors from The University of Chicago Law School. He was a member of The University of Chicago Law Review and won the Thomas R. Mulroy Award for Excellence in Appellate Advocacy. In 2003-04, Suyash clerked for the Honorable Jacques L. Wiener, Jr., U.S. Court of Appeals for the Fifth Circuit in New Orleans, Louisiana.
In the community, Suyash serves on the Board of Advisors of the Chicago Lawyer's Chapter of the American Constitution Society. And he recently completed a seven-year term on the Board of Directors of Planned Parenthood of Illinois, including as its Vice Chair and Secretary. He often provides pro bono and other legal services to promote and protect reproductive choice. And he has served as a volunteer attorney with the Legal Assistance Foundation of Metropolitan Chicago.
Before joining Massey & Gail, Suyash founded and managed Agrawal Evans, a commercial litigation boutique in Chicago. Before that, he was an equity partner at Susman Godfrey where he was elected to partnership after only five years of practice.